Bio 30 & Bio 30IB
Access to my Bio 30 Google Classroom CODE
Hey all, 
For all Bio 30 daily unit work unit calendars, note packages (including added notes and highlights), extra notes, reading questions, labs, assignments, reviews, worksheets, diploma review, formative quizzes, and answers keys to everything, please login to my Bio 30 GOOGLE CLASSROOMS and use my CLASS CODE: 
Important Tentative Dates
Nervous System & Endocrine System-Friday Sept 18th/2020
Cell Division & Reproduction-Friday Oct 2nd/2020
Molecular Biology & Genetics-Wednesday Oct 21st/2020
Population Dynamics-Friday Oct 30th/2020
Bio 30 Diploma Exam-Monday Nov 9th/2020

*** Remember for the Diploma Exam bring your photo ID, calculator (cleared), pencil, highlighter, and eraser! Leave all electronics (ipods, phones, iwatches, etc), purses, backpacks, hats and jackets in your locker.
*** Remember the diploma exam is worth 30% of your overall final grade while the other 70% comes from your course grade with me.
*** Please see the main page for the Re-write Policy and understand that the re-write of any major exam is usually a determined day after school usually within 1 week of the original exam. No in-class days will be given to re-write.
Curriculum
To look at the Alberta curricular objectives for Biology 30 go to http://education.alberta.ca/teachers/program/science/programs.aspx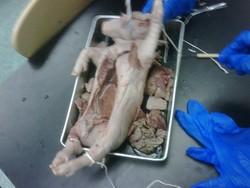 Nervous System and Endocrine Review
Biotechnology sites
Diploma Review
For some diploma review on top of the review packages I have handed out in class, go to the following sites online:
1) https://questaplus.alberta.ca --> Click on Practice Test--> Click on Grade 12-->Bio 30
2) www.exambank.ca --> The login is: ei.sal/ The password: foot
3) https://education.alberta.ca/science-10-12/diploma-exam-exemplars/?searchMode=3  --->Copy and paste this into google search and click on Bio 30 and there will be about 6 pdf files of old diplomas with answers.
4) http://www.learnalberta.ca/ProgramOfStudy.aspx?lang=en&ProgramId=864871#394404 --> The Login is: LA15 /Password: 3950
The above Learn Alberta website link will link you to Alberta Bio 30 Curriculum Outcomes, next to the outcomes if there is a 'backpack' link, click on it and there will be some resources (quizzes, worksheets, etc) to study from.
5)  Use http://www.khanacademy.org/ to watch videos to help you understand some of the key Biology 30 concepts. A great website to help you study. Go to videos and type in a key concept in the search engine.
6) Use http://www.brightstorm.com/ to watch videos to help understand some of the key Biology 30 concepts. A great website to help you study. Click on Science tab and then click on Biology.
7) Look at the Alberta Curriculum Bio 30 course outcomes checklist Bio 30 course outlines checklist
8) ***See my Bio 30 google classroom for Diploma Review resources, study checklists and information.